Introduction
Layer 1 (Physical Layer) is not included in the exam. As an network engineer, we should know some basic theory. Cable is an interesting topic. Copper cables and optical fiber cables are mainly used today. I am going to introduce the structure and standard of copper twisted cable in this article.
Structure
Copper network cables are consisted of 4 pairs of twisted pair cables. The word twisted means that the two cables are entangled together along the cables. Thanks to Physics, we know that twisted cables can reduce the attenuation (or it is called cross talk) that created by electromagnetic field. Thus, the electronic signal can be passed to a longer distance. Beside the 4 pairs of twisted pair cables, there are many other materials in the cable. Check it out.
Twisted Pair Cables
The main structure of a copper network cable for transmitting data. The 8 cables are recognized by different colours. Orange twisted with orange/white. Green twisted with green/white. Blue twisted with blue/white. Brown twisted with brown/white.

Rip Cord
High quality cables will have a fiber in it called Rip Cord. It does not used for transmitting data. It is only a high strength fiber that cannot be broken easily. It protects the cable from damage while workers implement the cables.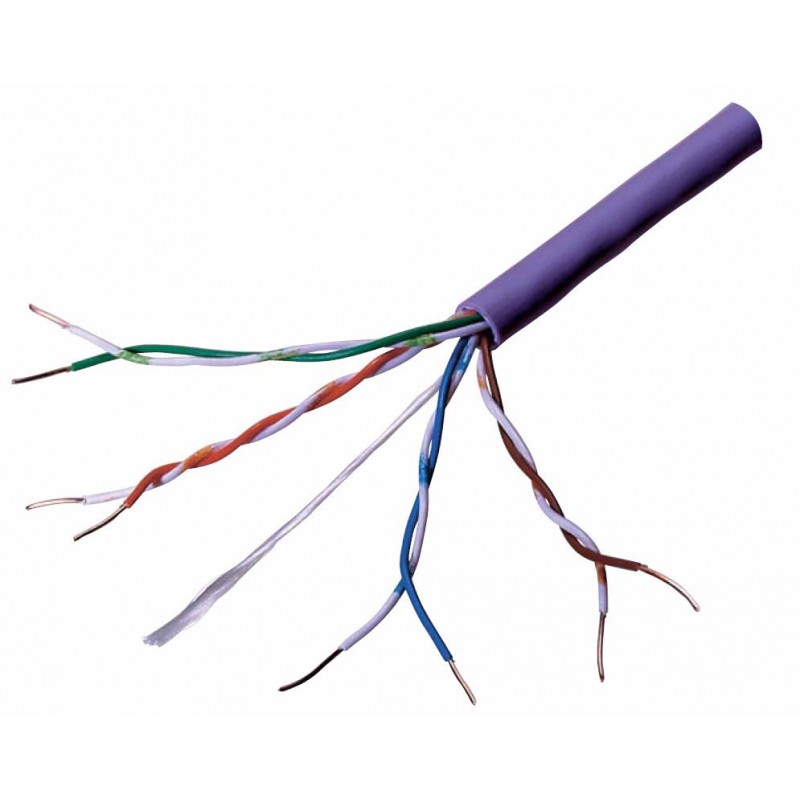 Drain Wire
Higher quality cables will also contain a Drain Wire which is a conductor. It is used to connect to the metal shielded RJ45 plug to reduce attenuation.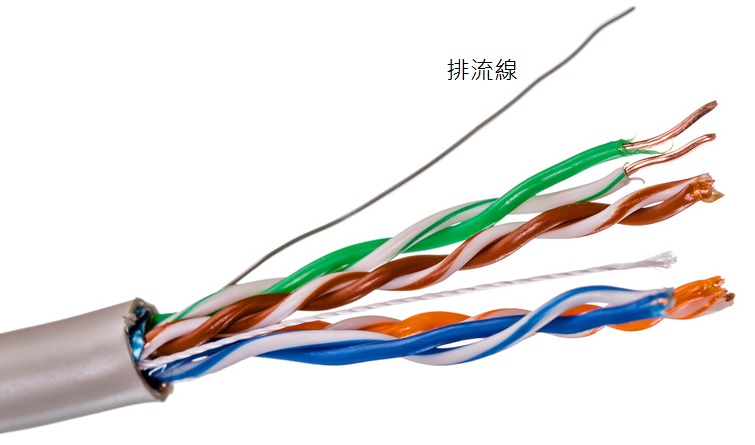 Separator
Separator is a plastic barrier to split the four twisted pairs in order to reduce cross talk by each others.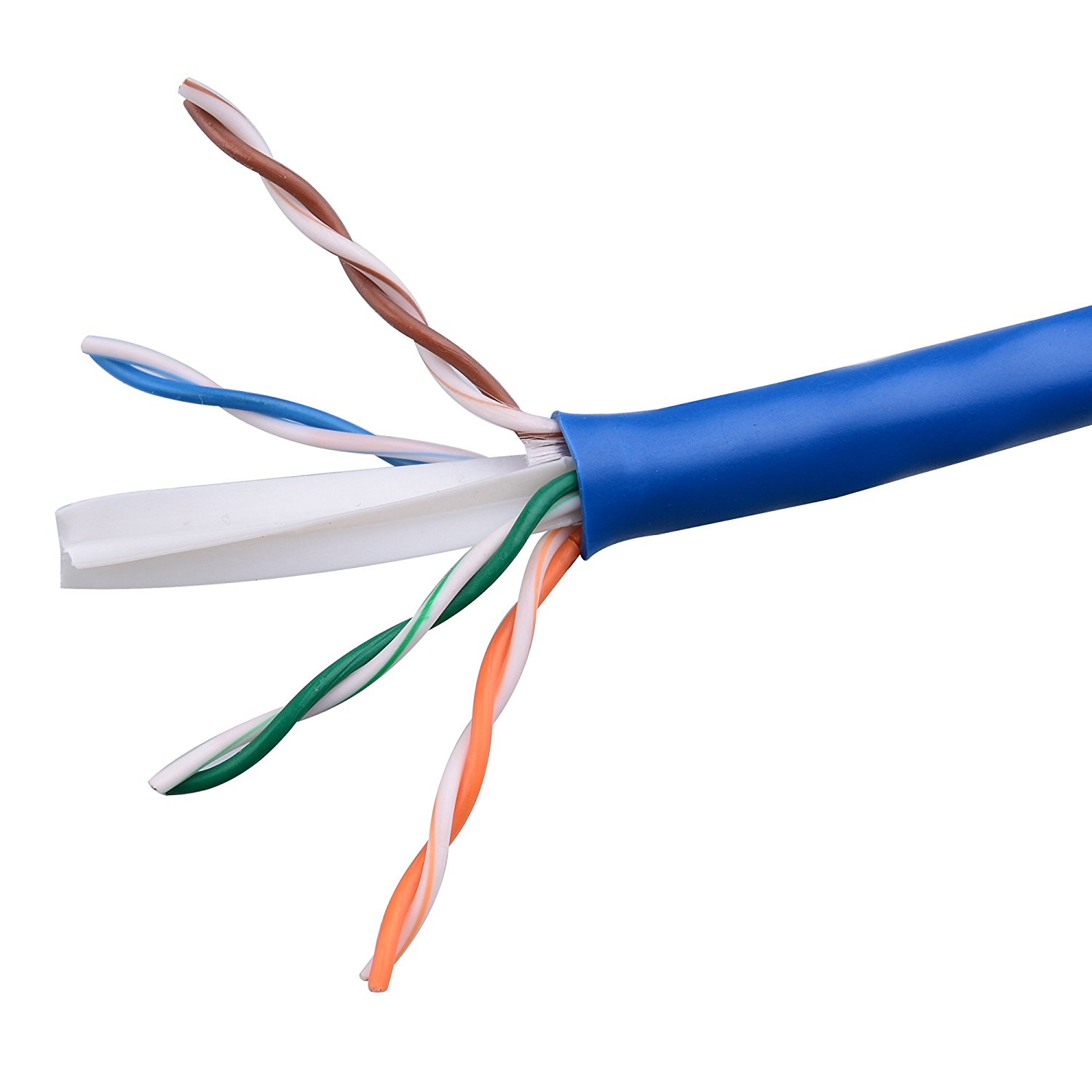 Shielded vs Unshielded
Shielded cables means that a metal coating is surrounded the cable. The reason of doing that is to reduce the interference also. The cable with coating is called STP (Shielded Twisted Pair) and the cable without coating is called UTP (Unshielded Twisted Pair).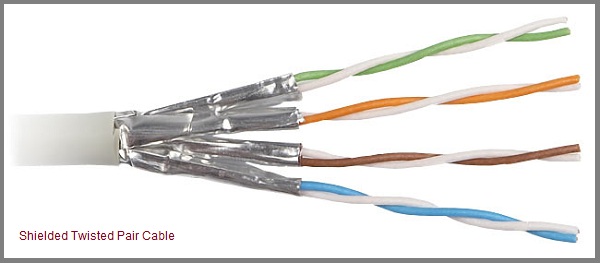 Plug
RJ45 Plug
Each sides of the cable will connect to a RJ45 plug. It is also called 8P8C. The eight copper parts on the plug is numbering as Pin 1 to Pin 8.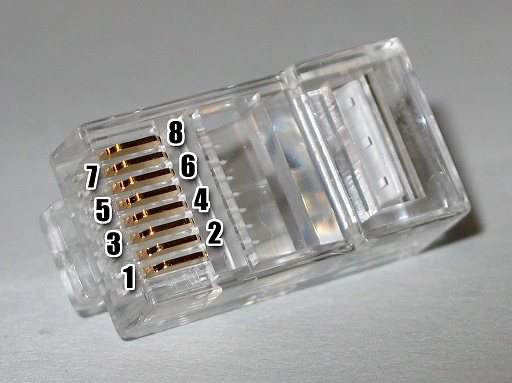 Shielded RJ45 Plug
We can shielded the RJ45 also just like what we did to the cables. It is also used to reduce attenuation.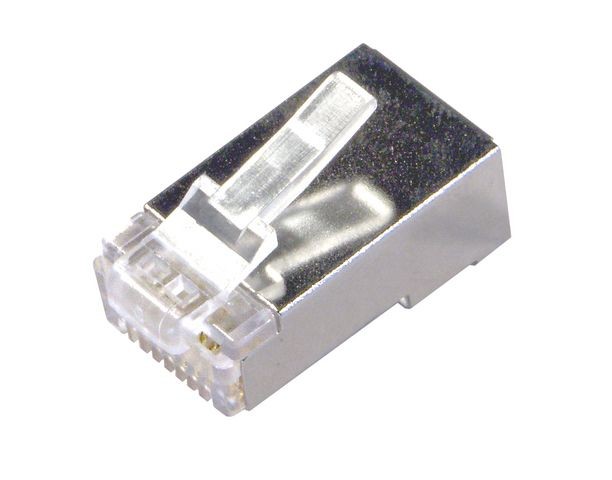 RJ45 Plug with Tail
Two purposes for the tail. It helps the plug steady stick with the cables. Also, it is used to connect to the Drain Wire of the cables.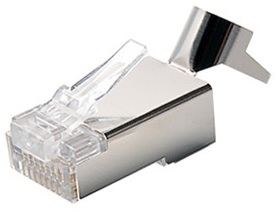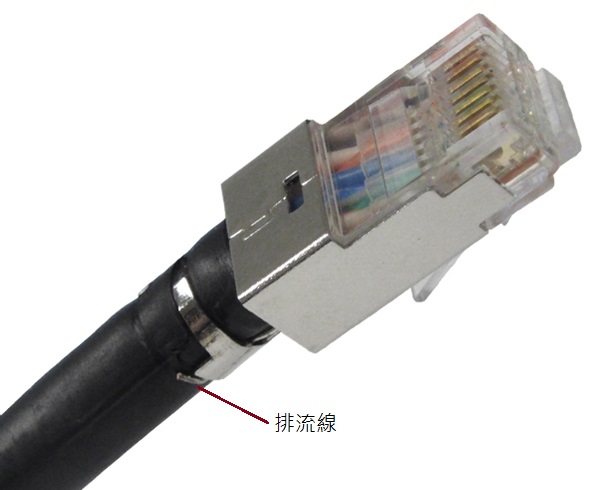 GG45 Plug
Another high quality plug is called GG45. Other than the metal coating, one of the big changes is the Pin 3 to Pin 6 is moved to the other side of the plug to increase the space between the Pins. Same reason, for reducing attenuation.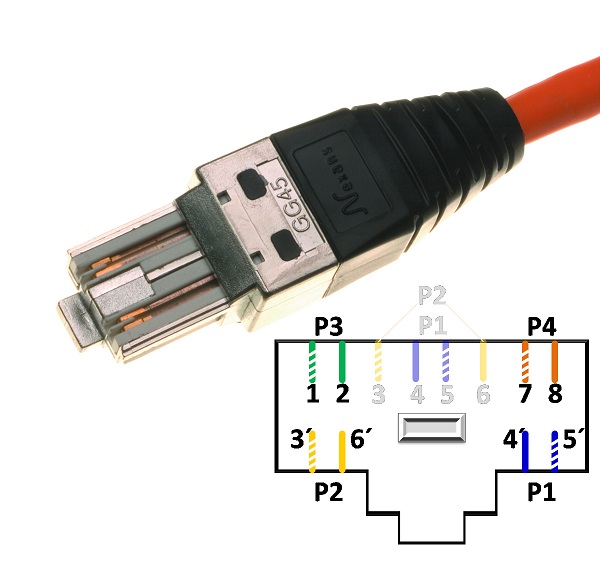 Attenuation and Bandwidth
From the previous sessions, we could see that the direction of copper cables evolution is to reduce attenuation (or interference/cross talk). Because reduce attenuation is equal to increase bandwidth. Due to the poor Physics knowledge, I could not write too much about the theory of electromagnetic field. But I could summary the follow points about copper cables.
Copper cables are only suitable for short distance, normally less than 100 meters without any network devices in-between. If the transmit distance is more than 100 meters, we should use an optical fiber. The electronic signal is weaken more if the transmitted distance is longer. Decrease the attenuation can increase bandwidth. The method of decreasing the attenuation are,
Increase the number of twisted of the cable.
Use shielding to cable and plug.
Increase spaces between the cables and the pins.
Category
Okay! We know the theory now. But for a very busy network engineer, we do not have time to cut the cables to see the structure. Then how do we choose a suitable copper cable? TIA/EIA (Telecommunications Industry Association and Electronic Industries Association) helps. They have a standard of copper cables . This standard divides the cables to Category 1 (Cat 1) to Category 8 (Cat 8). Higher Category number means higher level of anti-attenuation so that higher bandwidth is supported.
Cat 5 cables or above are used in the modern networks. Cat 1 to Cat 4 that only support up to 16Mbps is not used nowadays. I am so young 😛 that I did not ever use Cat 1 to Cat 4 before so I skip it in this article. TIA/EIA Cat 5 to Cat 8 is compared in the following table.
Category
Full Name
Max Bandwidth for 100m
Max Bandwidth for short distance
Plug
Cat 5
Category 5
100Mbps
N/A
RJ45
Cat 5e
Category 5 Enhanced
1Gbps
N/A
RJ45
Cat 6
Category 6
1Gbps
10Gbps @ 55m
RJ45
Cat 6e
Not in TIA/EIA Standard
Cat 6a
Augmented Category 6
10Gbps
N/A
RJ45
Cat 7
Not in TIA/EIA Standard
Cat 7a
Cat 8.1
Category 8.1
To be confirmed
40Gbps @ 30m
RJ45
Cat 8.2
Category 8.2
To be confirmed
40Gbps @ 30m
GG45
Straight vs Cross
The eight colours that in the LAN cables are needed to connect to the Pins according to T-568A or T-568-B ordering.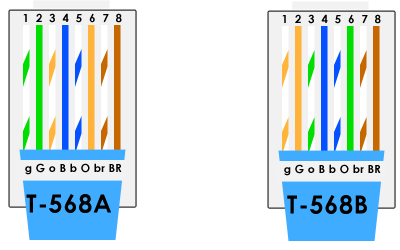 For old style 10Mbps Ethernet and 100Mbps Fast Ethernet, we may use two types of cables, Straight Cable or Cross Cable, to connect different combination of devices. If both sides of the cable are using the same ordering, then it is a Straight Cable. For example, both sides are using T-568B. Otherwise, if it uses different ordering, it is a Cross Cable.

The combinations of devices and the relative types of cable usage is listed in the following table.
|   | Hub | Switch | Router | PC / Server |
| --- | --- | --- | --- | --- |
| Hub | Cross | Cross | Straight | Straight |
| Switch | Cross | Cross | Straight | Straight |
| Router | Straight | Straight | Cross | Cross |
| PC / Server | Straight | Straight | Cross | Cross |
For Gigabit Ethernet interfaces or above, Auto MDI-X is a necessary requirement for the interface to auto detect the signal. Cross Cable is no longer used.
10/100 Cable Tricks
Although there are four twisted pairs in a network cable, we only use two pairs (Ping 1,2,3,6) of them at 10/100 Mbps network. The others (Pin 4,5,7,8) are idle. We can play some tricks by using these idle pairs.
Split Cable
Suppose there are limited environment that we could only install one RJ45 port but we have 2 network devices. We can use Split Cable to divide the original four twisted cables into two groups. One group for one device.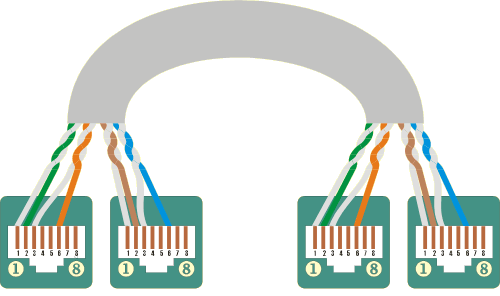 If you do not want to make the Split Cable by yourself, you may buy something called Splitter to do the same thing.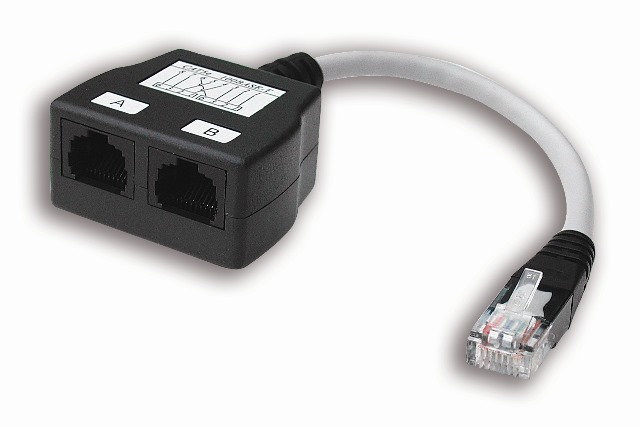 DIY POE (Power over Ethernet)
Another trick is DIY PoE. We can tailor-make a PoE cable to provide power to the device by using the idle twisted cables. It is suitable for home used WiFi Router and IP Camera.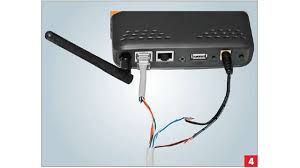 You can also buy a Passive PoE Splitter instead of DIY the cable.

⚠️ Please be reminded that there is a risk to damage the device and also decrease the network performance when using the above DIY methods.
Testing
LED Tester
A very economic tester for verifying whether the cable is broken or not.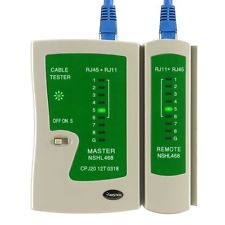 Electronic Tester
More information is provided such as the length of the cables.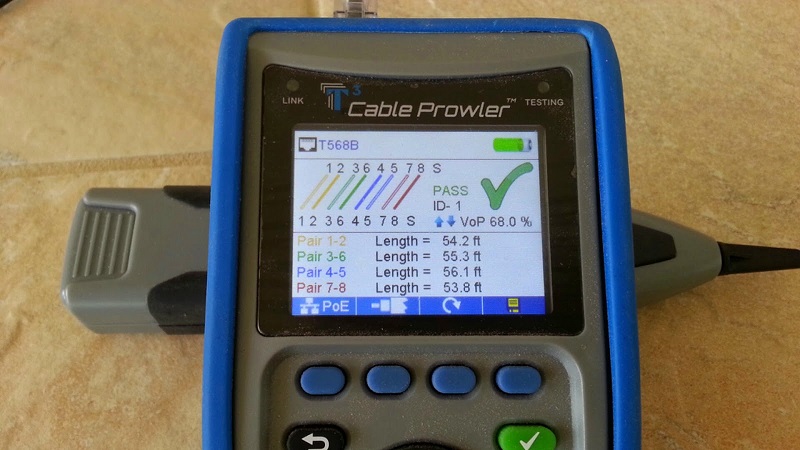 IOS Command
You can use build-in cable test command of Cisco IOS. Use test cable-diagnostics tdr interface <interface>, and then use show cable-diagnostics tdr interface <interface> to check the results. When using test cable-diagnostics, the interface will be disconnect for a very short time.
SW1#

test cable-diagnostics tdr interface gigabitEthernet 0/5


Link state may be affected during TDR test
TDR test started on interface Gi0/5
A TDR test can take a few seconds to run on an interface
Use 'show cable-diagnostics tdr' to read the TDR results.
SW1#
SW1#

show cable-diagnostics tdr interface gigabitEthernet 0/5


TDR test last run on: January 08 00:44:33

Interface Speed Local pair Pair length        Remote pair Pair status
--------- ----- ---------- ------------------ ----------- --------------------
Gi0/5     100M  Pair A     10   +/- 2  meters Pair A      Normal
                Pair B     10   +/- 2  meters Pair B      Normal
                Pair C     N/A                Pair C      Open
                Pair D     N/A                Pair D      Open 
Related Topics
| | |
| --- | --- |
| Was this article helpful? | |