Introduction
Layer 1 (Physical Layer) is not included in the exam. As an network engineer, we should know some basic theory. Cable is an interesting topic. Copper cables and optical fiber cables are mainly used today. I am going to introduce the structure and standard of fiber cable in this article. Compared to copper cable, fiber cable is not influenced by electromagnetic field, has longer transmission distance and physically thinner,  softer and easier to implement.
Structure
Light goes straight but cable cannot be straight. So, light is reflected in the cable to move forward. From high school physics, we know that the total internal reflection angle can be calculated if we know the refractive index of the materials. It is applied to the fiber cables, it contains two different types of materials.

A fiber cables consists of three parts: Core, Cladding and Coating.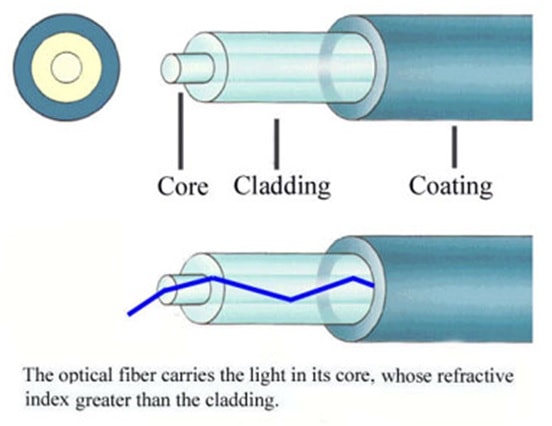 Core
Core is the material with larger refractive index. The light beam is going through the core. The diameter of the core is between 8 to 62.5 µm which is nearly equal to the hair of human.
Cladding
Cladding is the material with smaller refractive index. It reflects the light. The diameter of cladding is 125 µm.
Coating / Jacket
Coating provides protection. To identify different types of fiber cables, different color of coating is used.
Two numbers are printed on the coating. In the following figure, 50/125 means that the core diameter is 50 µm and the cladding diameter is 125 µm.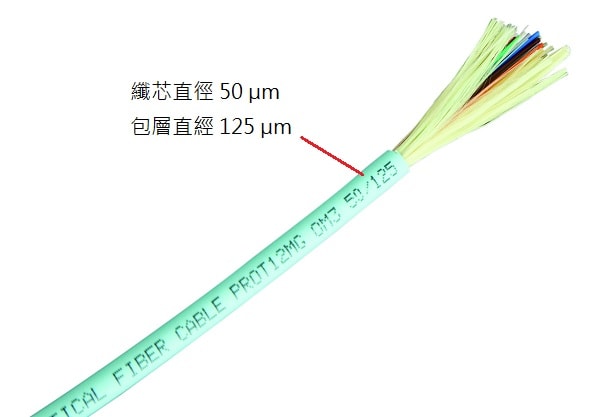 Multi-mode vs Single Mode
The core of Multi-mode Fiber (MMF) is thick, many light beams can go forward together at the same time. The price of MMF is cheaper but attenuation occurs since light beams interferer each other, thus MMF only suitable for a short distance(< 2 km).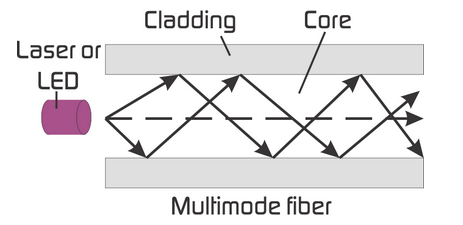 The core of Single Mode Fiber (SMF) is thin, only one light beam is allowed to pass through. But the transmission distance is much longer (10 km).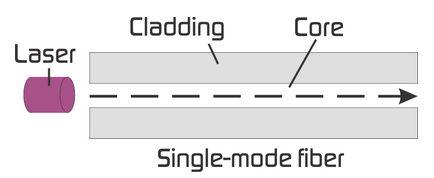 Transmission Distance and Wavelength
Although light is not influenced by electromagnetic field, it is attenuated after each reflection. It makes the maximum bandwidth decreases. 3 factors vary the bandwidth of an optical fiber:
Transmission Distance
Shorter transmission distance, less attenuation. Thus, larger bandwidth.
Wavelength
Base on the characteristic of light, larger wavelength can decrease attenuation, and bandwidth increases. The unit of wavelength is nm. 850 nm to 1300 nm is used in Multi-mode Fiber and 1310 nm to 1550 nm is used in Single Mode. Of course, no free lunch, devices that can generate light beam with large wavelength is more expensive.
Light Source
There are two types of light source, LED (Light-emitting Diode) and VCSEL (Vertical-Cavity Surface-Emitting Laser). Since the frequency of VCSEL is higher than that of LED, VCSEL can transmit more signal than LED at the same timeslot. In other words, higher bandwidth. LED can support maximum 40 Gbps only but VCSEL can support up to 100 Gbps. Only high grade optical fiber can support VCSEL, such as, OM3, OM4, OS1 and OS2. Devices and fibers that support VCSEL will be more expensive.
Types of Optical Fiber Cable
Let us talk about the standard. According to TIA/EIA (Telecommunications Industry Association and Electronic Industries Association), there are four types of Multi-mode, OM1, OM2, OM3 and OM4. Larger number means higher prevention to attenuation so that support higher bandwidth and longer transmission distance.
Types
Coating Colour
Diameter (Core/Cladding)
Longest distance (m) with 850 nm wavelength
 Longest distance (m) with 1300 nm wavelength
[By using Single Mode Module & Conditioning Patch Cable]
1Gbps
10Gbps
40Gbps
100Gbps
1Gbps
10Gbps
40Gbps
100Gbps
OM1

█

 Orange
62.5/125 µm
220
32
Not Support
Not Support
550
Not Support
Not Support
Not Support
OM2

█

 Orange
50/125 µm
550
82
Not Support
Not Support
550
82
Not Support
Not Support
OM3

█

 Aqua
50/125 µm
550
300
100
100
1000
300
Not Support
Not Support
OM4

█

Aqua
50/125 µm
550
400
150
150
1000
550
Not Support
Not Support
OM5

█ 

Lime Green
50/125 µm
550
300
400
400
1000
550
Not Support
Not Support
Two types of Single Mode fiber are OS1 and OS2, the transmission distance of the two types are nearly the same. But OS2 use a technique that called Loose-tube to provide waterproof to make it good for outdoor usage. OS2 is higher in price.
Type
Coating Colour
Diameter (Core/Cladding)
Longest distance (km) with 1310 nm wavelength
Longest distance (km) with 1550 nm wavelength
1Gbps
10Gbps
40Gbps
100Gbps
1Gbps
10Gbps
40Gbps
100Gbps
OS1

█

Yellow
9/125 µm
5
5
10
10
Not Support
40
40
40
OS2

█

Yellow
9/125 µm
5
5
10
10
Not Support
40
40
40
Connector
Beside fibers, we also have a number of choices for connector.
SC (Square Connector / Subscriber Connector)
Old style connector that used in old devices.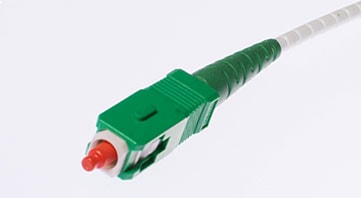 LC (Little Connector / Lucent Connector)
Commonly used. Smaller form factor compared to SC. Less spaces is required for the devices.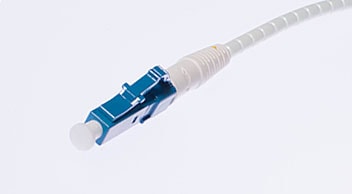 FC (Fiber Channel / Ferrule Connector)
Screw design to provide reliable connecting.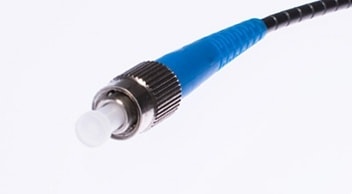 ST (Straight Tip)
Commonly used in fiber patch panel.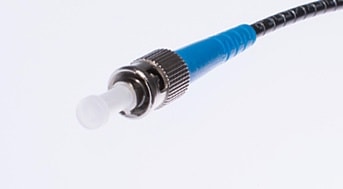 MTP (Multifiber Termination Push-on)
1 MTP connector can support 24 optical fiber cables. It is suitable for environment that requires a large amount of fiber cables..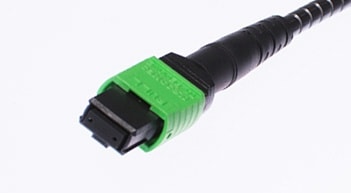 GBIC / SFP
So, there are many choices for connectors. Which connectors should a device provides? Factory let you choose by yourself! Generally, the network devices only provide an interface for you to plug the interface card that is suitable for your environment so that you can choose the connectors that you want.
GBIC
GBIC (Giga Bitrate Interface Converter),GBIC changes electrical signal to optical signal, commonly used with SC connector.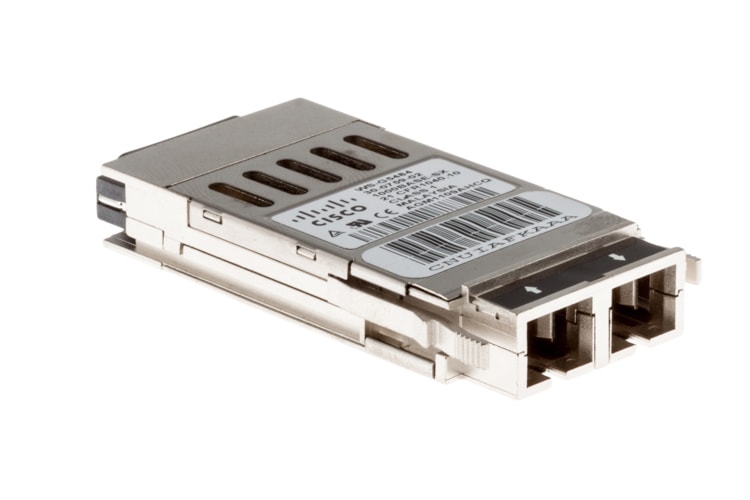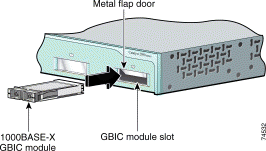 SFP
SFP (Small Form Pluggable) do the same thing as GBIC but the size is smaller. It also called Mini-GBIC and commonly works with LC.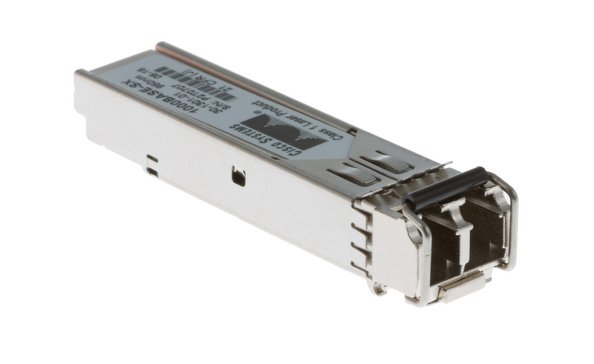 Module Model
The specific Module (GBIC / SFP) is needed to use for single mode fiber and multi-mode fiber. And there is a module which is used for copper cable. The models are listed as below.
Standard
Cable Type
GBIC
SFP
Remark
1000BASE-SX
Multi-mode Fiber
WS-G5484
GLC-SX-MM
 
GLC-SX-MMD (DOM)
DOM means Digital Optical Monitoring. It supports monitoring which shows module readings
1000BASE-LX/LH
Single Mode Fiber
WS-G5486
GLC-LH-SM
 
1000BASE-T
RJ-45 connector, for copper cables
WS-G5483
GLC-TE
Suitable for data center and office environment
SFP-GE-T
Suitable for poor environment
Mode Conditioning Patch Cable
The price of Single Mode Fiber is relatively high, so we always tends to user Multi-mode Fiber if the distance do not reach the unit KM. But the distance is limited when using Multi-mode Fiber. In order to extend the transfer distance, for example, the transmission distance of an OM1 cable can be extended from 220m to 550m by using a Single Mode Module. The Mode Conditioning Patch Cable is used for converting Single Mode Signal to Multi-mode Signal.

Optical Interface Readings
Use show interfaces <int> transceiver to check the interface readings. We should pay attention to Tx Power and Rx Power, Tx Power should be at least -10dBm and Rx Power should be more than -17dBm. If the value is too low, the optical fiber may be damaged. Actually, no singal is received if the value is lower than -30dBm.
SW#show interfaces gigabitEthernet 1/0/1 transceiver
ITU Channel not available (Wavelength not available),
Transceiver is internally calibrated.
If device is externally calibrated, only calibrated values are printed.
++ : high alarm, +  : high warning, -  : low warning, -- : low alarm.
NA or N/A: not applicable, Tx: transmit, Rx: receive.
mA: milliamperes, dBm: decibels (milliwatts).

                                           Optical   Optical
           Temperature  Voltage  Current   Tx Power  Rx Power
Port       (Celsius)    (Volts)  (mA)      (dBm)     (dBm)
---------  -----------  -------  --------  --------  --------
Gi1/0/1      38.7       3.29       6.1      

-5.1      -4.4



If you found that following message while use the command, it means that the GBIC / SFP do not support monitoring so that no values can be read.
SW#show interfaces gigabitEthernet 1/0/2 transceiver
Diagnostic Monitoring is not implemented.

Related Topics
| | |
| --- | --- |
| Was this article helpful? | |